Hey there, Poptropicans! It's Happy Lobster, and I'm here to present to you our first Monday Monitors post! Yes, I know, the Weekly Specials posts have really gone off-schedule in the past couple of weeks, but it will be back to normal, starting now.
Just for those who don't know what that is, Monday Monitors is fundamentally a segment here on AQoP where we look over an island (like a monitor would, hence the segment's name) of Poptropica, and write up a review about it.
We're starting off at Poptropica's very first island: Early Poptropica.
Synopsis
Poptropica's oldest inhabitants have a problem: someone's been stealing their stuff! To return what's rightfully theirs, you'll explore creepy sewers, pitch-black caverns, and even a giant's garden in the clouds. See how it all began with the very first Poptropica Island: Early Poptropica!
To start off the quest, you'll meet the early inhabitants of Poptropica. These folks are pixellated, which is clever, since sprites (Early Poptropicans) were around since the early eras of computing, and now with modern computing, things are now a lot less visibly pixellated (modern-day Poptropicans – like you and me).
Anyway, they'll tell you that three of their prized possessions – a Prized Porker, a Water Bucket and a Signal Flag is missing. You'll set off in pursuit to find these items, and you'll travel to the sewers, where several spiders (several small and one gigantic) roam, inside a well, a mini labyrinth underground, and a giant's lair in the clouds!
Eventually, you'll find all three items and return them to their waiting owners, and for your very hard work, you'll receive an Island Medallion.
Art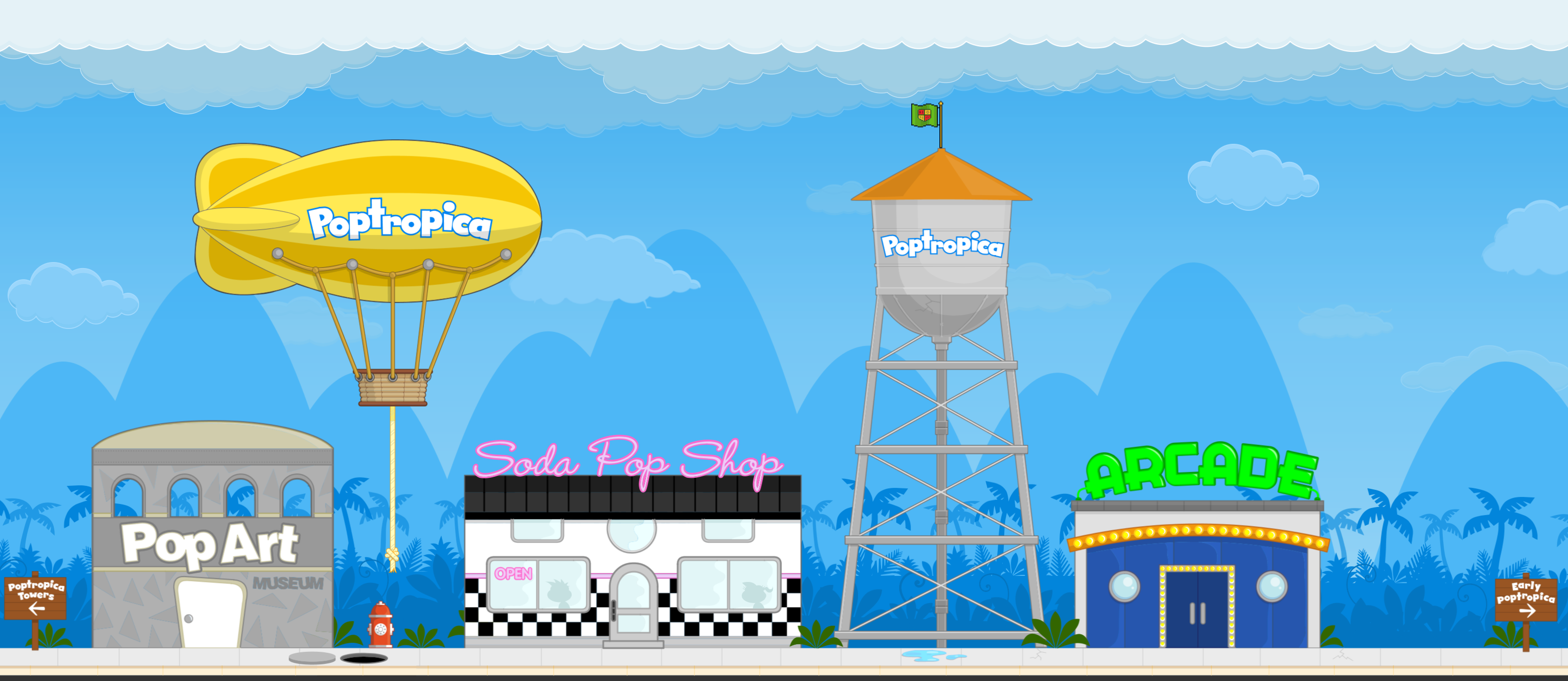 The visuals of Early Poptropica are pleasurable, but not very well developed. You have to give the Creators some slack for this – after all, Early Poptropica is Poptropica's first island. But the sprites we see in this island are of superb quality, in any case.
The outdoor backdrops seen in Early Poptropica have a relaxed aesthetic to them, and would make awesome wallpapers. And who could forget the giant scene? The vast effect given by only showing the giant's colossal legs was well utilised, and that short event definitely makes for nostalgic memories in many old-time Poptropicans.
Plot and Gameplay

The plot for Early Poptropica cannot be considered the greatest. It's simple, but there are several gaps strewn around it. How did the Early Poptropicans lose their possessions? The Porker person says that a sneaky spider stole his pig. Generally, spiders are not known for stealing pigs and guarding them. How did the spider even make off with the Porker? The Bucket person says that his bucket was stolen. We find it in the giant's lair. Then we find the Signal Flag atop the Water Tower? How did it even get up there? Why was the giant's egg underground? It seems like everyone is stealing from each other. Several questions lie unanswered in this island.
Moving along, towards Early Poptropica's gameplay. As most of you would know, this is a relatively short and easy quest to complete. But once again, the Creators do deserve some slack; this was the very first island they made. It also works as a great tutorial for new Poptropica players, although it is admittedly slightly forgotten now as one, with Monkey Wrench Island now around.
Judgement
Ultimately, Early Poptropica is certainly a respectable island, with decent art. But its storyline needs some amending to, and the gameplay could be slightly more suspenseful. But all in all, given that this is Poptropica's first island, this is undeniably a classic to enjoy.
So, judging on a scale from 1 to 10, Early Poptropica receives a…
That concludes my Monday Monitors review of Early Poptropica! I hope you enjoyed reading this review. Stay popping, Poptropicans! 😉
~Happy Lobster